Rhinoplasty Campbell River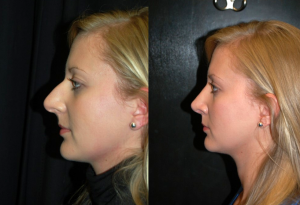 Your nose: is it too large, too small, too flat, and too pointed? Is it crooked? Do you have trouble breathing through your nose? If so, you're in good company. Many people feel their nose detracts from their whole face, taking away from the natural beauty of their eyes, hair or other facial features. That's why they choose to get a rhinoplasty.
Rhinoplasty surgery can change the shape of the whole nose or of just a small part, making it fit more harmoniously with the rest of the face.
Careful and extensive preoperative discussions and planning will take place before your surgery. We will consider the prominence of your cheeks, your jawline, your skin thickness and quality, and the overall dimensions of your nose before advising you of how not only to achieve the changes you want, but also to achieve overall harmony of all your facial features. Dr. Miller can improve features in your current nose that detract from your overall facial aesthetics.
If your breathing is a problem, we will conduct a detailed examination and advise you as to how this can be improved with surgery. Sometimes, special tests to measure your degree of obstruction or to evaluate your sinuses may be required. If you suffer from sinus problems, these can be improved at the same time as nasal surgery.
Share and Enjoy